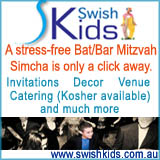 Do you want to enjoy watching your child celebrate their special day,
without the stress of organising and running it?
We are able to help parents organise whatever they may need or want.

We know that there are a lot of busy Jewish parents who just don't have enough time on their side.
Themes, cakes - we do the lot. Welcome to a worry-free Bar-Bat Mitzvah experience!