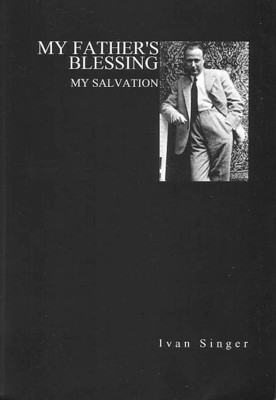 Remembering the lost Jews of Serbia
My Father's Blessing, My Salvation
Self published, 2002, 461 pages, $29 Rev~ by Solon Chervitz

Review published in
the Australian Jewish News 04/10/02



ALMOST 1000 years ago following the destruction of the Jewish community of Mayance during the first crusade, a tradition began which still exists today: that of memorbuchen, memorial books in which the dead of a community are remembered. Since the Holocaust, a new variation of has emerged: the telling of a family's saga around those momentous years.
I read this book in the days around the Tobin and Scully decisions about the spreading of hate and Holocaust denial. 1 found that Singer had encapsulated the reason why each and every book like this must be written. "I considered it my duty to tell [the story] before 1 die, being a living witness of our not so distant past," he writes.
It is a story about real people mentioned by their real names. It deals with the fate and lives of the Jewish population of the Banat and Belgrade, Serbia (Yugoslavia) during the Holocaust. It is a memorial to all the Jews of a little town called Vršac: in the province of Banat, in the northern part of Serbia.
Ivan Singer was a first year medical student in Belgrade when Yugoslavia was attacked on April 6, 1941. Witnessing the destruction of the Jewish community in Nazi-controlled Serbia, Singer escaped the slaughter, finding his way as many other Jews to Tito's partisans. Joining the partisans afforded him the ability to fight back and to embark on a career as a fighter pilot. Trained in the Soviet Union, he eventually became an officer in the Yugoslav air force.
This is a story of the transformation of a middle class Jewish student, a desperate refugee from the Nazi terror in Serbia to a seasoned partisan fighter and a Soviet trained fighter pilot. Mr Singer's memoirs offer a very rare witness account of the Nazi extermination of the Jewish community in Serbia; of the Nazi attack on the partisan headquarters in Drvar in 1944; and of the wartime allied support for the partisans.
The extermination of the Jews of Serbia began in 1941 and finished early in 1942. Singer believes that he is the only living survivor of the camp called Topovske Šupe. It was a place where the Germans collected all Jews of the Banat and Belgrade to be shot, executed in groups of 100 or 200 at a time. The whole deed lasted a mere four months. The Holocaust in Yugoslavia was swift and merciless.
This book is a true story about the war, people, justice and remembrance. "The victims have remained victims. Justice can never be done, but they must not be forgotten. They live in my memory and I hope that they will live in the memory of those who read this book" Singer writes.
"This book is yet one more
nail in the coffin of each
Holocaust denier and it
should be read."