'SEARCHING FOR YESTERDAY'
A Mother & Daughter's Enlightenment

'Searching for Yesterday' is a unique approach to portraying Holocaust experience - it is as revealing about the survivor's daughter - developing as a photographer and expressive writer - as it is about the survivor.
But it is special in other ways too. Helen Max started a modern photographic essay of her mother's story while graduating in an Applied Photography Diploma.
But she quickly realised that the photos needed words to weave together her mother's story and to reveal her own emotions as her mother's nightmare was exposed for the first time, interview after interview. So Helen honed her writing skills through Makor Library's 'Write your Story' program.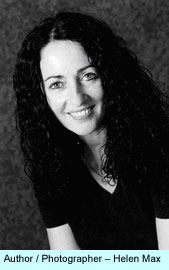 An accomplished and award winning photographer became an interviewer, a writer and a far closer daughter.
Writer Jean Holkner said, 'this is an unusual and enticing presentation. It combines insightful writing, evocative use of photos, new and old, with moving interviews.'
'This is a story I couldn't put down,' said literary teacher Marion Smith.
'Searching for Yesterday' is the story of a Holocaust survivor, and the story of her daughter's evolution - as a skilled author/photographer and as an enlightened survivor's child.
It was also a traumatic unburdening for the author's mother.
"My mother always protected us from the details of her terrible ordeals," Helen said. "And I think the photographer's approach helped ease us into the story-telling that she had resisted for 50 years. Only after I nagged her for explanations did we slowly progress to interviews - long, difficult and emotional interviews."
"The book also rallies against modern anti-Semitism, because it is still with us here in 'tolerant' Australia. Some of my early photos studied anti-Semitic graffiti and it reminded me of how confronting hatred directed right at you can be," Helen said.
Raizel Teperman was born in Poland and was nine when Nazi Germany invaded and accelerated its murderous assault on Europe's Jews. 'Searching for Yesterday' traces Raizel's experiences before the war, during her hellish but incredible survival in labour camps and Auschwitz, as well as her emergence as a survivor, witness and eventually a mother.

" 'Only two of us survived this nightmare.' Mum closed her eyes and I saw the tears trickling down her cheeks. So began two arduous years of discovery and wild emotional swings for me," Helen relates. "It involved photography, interviews, document research around the world and redraft after redraft."
This book is a record, not just for Helen's family, but for all Australians as today we again see victims of persecution fleeing cruelty, beseeching us for refuge.
'Searching for Yesterday' is available at selected bookstores, through Makor Library or the author on 0411-819595