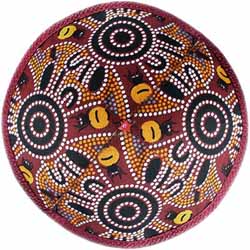 Kippah - Aboriginal Art

DESIGNS AND STYLES MAY VARY FROM PICTURE SHOWN
SKU: aus-kip6
Kippot hand-made by Larissa Eidlina.

Larissa is the grand-daughter of the legendary Rabbi Isaak Eidlin from Visokoe in Belorussia.

A mathematician by profession, having qualified from Moscow University during the Soviet era after teaching for several years, Larissa branched out into fine arts and sewing.

In 1991 Larissa was commissioned to make kippot for delegates of the First Congress of Latvian Jewry. Since then making kippot, the most commonly known piece of jewish garb, became a large part of Larissa`s creativity, both her hobby and her passion.

With decades of experience, both as a fine artist with several exciting solo exhibitions to her credit and as a professional tailor, Larissa now creates exquisitely crafted kippot, each a little masterpiece of art to keep as a memento of the special occasion for which it was especially created or for daily religious observance.

The design kippot make great gifts for family and friends, and have been appreciated in Australia and overseas by numerous Jewish congregations.
$24.95 Australian Dollars [Currency Converter]