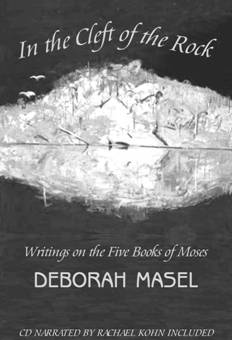 by Deborah Masel
Price is for both books

Buy two of Debbie Masel's special books in one order.

SOUL TO SOUL
When she was diagnosed with metastatic breast cancer in 2007, Deborah Masel's life collapsed.

Two and a half years later, her struggle to find meaning in the shadowy world of terminal disease induced her to write not only of her cancer experience, but of threads from the past that were woven into the fabric of this 'final curtain'.

In her search for comfort and meaning, Deborah found that the world of cancer was dominated by stories of physical survival, which was assumed to constitute "victory".

Yet her most treasured teacher, a Torah scholar who perished in the Holocaust, had through the text he left behind awakened her to the meaning of spiritual victory.

If he could keep his disciples focussed on God while the Nazis did all they could to brutalize and dehumanize them, surely she could stay focussed and not panic even when the cancer threatened to devour her. Her challenge was to accept the fact of death without losing her love for this dappled world and for the glory of its passing days.


"I know it will mean a lot - as much as a book can mean - to a lot of people".
- James Kugel, author of How to Read the Bible, Professor Emeritus of Classical and Modern Hebrew Literature at Harvard University

"...an extraordinary spiritual memoir of one woman's struggle with life and death. Debbie Masel writes of her life with cancer with a rare and passionate truthfulness, in which fear, pain, humor and a profound engagement with her Jewish faith all find their place. The rich humanity of her writing makes for compelling reading."
- Avivah Zornberg , author of Genesis: The Beginning of Desire


IN THE CLEFT OF THE ROCK - Writings on the Five Books of Moses

Deborah Masel's work is vitally haunted. Haunted by texts and images, which achieve their own life in her prose poems. Drawing from a rich imaginative knowledge of midrashic and hassidic commentary on the Bible, she creates a personal mythology of death and life, darkness and light, void and meaning. Passionately searching, her words draw together fragments of hidden beauty.

I met Debbie in 2003 at the Nahum Goldman seminar in Melbourne. She was in the early stages of a new career as a teacher of Torah. Avid for learning, she sought out every opportunity, including weekly telephone study sessions with teachers in the US and encounters with visiting scholars. I was impressed by her passion and by her literary sensibility and we began a weekly email correspondence which continues till now. We write mostly, but not entirely, about our work on the weekly Parsha. Over the years, I have witnessed Debbie's maturing authority, as she has become a beloved and respected teacher of Torah, affecting increasingly large audiences with her resonant poetic voice.

Now, we have an opportunity to read a collection of Debbie's written reflections on the Parsha. These were written in tandem with her oral presentations. They represent in condensed and often brilliant form the nodal images that emerge from the midrashic literature. Sensuously evocative, these images inform an associative language in which paradox and mystery give birth to unforeseen wisdom. Here, Wallace Stevens, Thomas Mann, and Bob Dylan find themselves in a new world. And here, the inner life of a complex modern Jewish woman reaches out to many other lives seeking for more life.


Read more about Deborah Masel Miller


$47.95 AUD
Price Includes Australian GST
[Currency Converter]