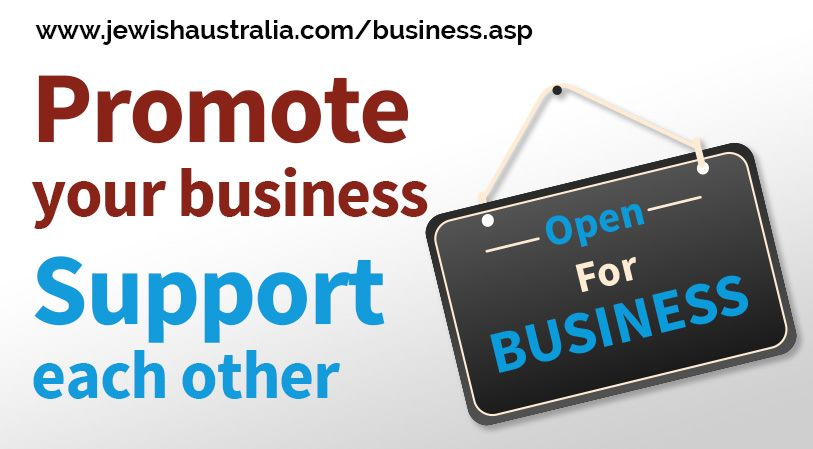 Grow your customer network.
In a time of pandemic and shutdowns, we offer openings and access.
Connect your business with others in your community, as well as opening a window to new markets.
Wherever you are around the world, the Jewish Businesses Online Hub is for you.
Our weekly readership is from over 100 countries.
Join our growing network of personally verified, recommended businesses.
---
ABD Architecture LLC

Architect

---

Country:

JAPAN




City:

Hokkaido




Contact:

Franck Giral
📝 VIEW ad Visit Website


Mates with Grace

Baby Wear & Gifts

---

Country:

AUSTRALIA




City:

Melbourne




Contact:

Michelle Jackson
📝 VIEW ad Visit Website


GB's Melbourne Cleaners

Cleaning services domestic + commercial

---

Country:

AUSTRALIA




City:

Melbourne




Contact:

Garry Britavsky
📝 VIEW ad Visit Website


Ilana Grosman Psychotherapy

Counselling + coaching

---

Country:

AUSTRALIA




City:

Melbourne (+ online)




Contact:

Ilana Grosman
📝 VIEW ad Visit Website


Philly's Best Tutor

Education support

---

Country:

USA




City:

Elkins Park, Philadelphia




Contact:

Jill Max
📝 VIEW ad Visit Website


Eggs Direct

Eggs Farm Fresh delivered

---

Country:

AUSTRALIA




City:

Melbourne




Contact:

Gloria Minieri-Giudice
📝 VIEW ad Visit Website


Applause Entertainment

Entertainment Events

---

Country:

AUSTRALIA




City:

Melbourne




Contact:

Daniel Tusia
📝 VIEW ad Visit Website


Signarama St Kilda

Every kind of Signage

---

Country:

AUSTRALIA




City:

Melbourne




Contact:

Martin Splitter
📝 VIEW ad Visit Website


Simeon's Florist

Florist

---

Country:

AUSTRALIA




City:

Melbourne




Contact:

Simeon or Miriam
📝 VIEW ad Visit Website


Adama Street Food

Food Truck Vegan Kosher

---

Country:

USA




City:

Atlanta, Georgia




Contact:

Eli Brafman
📝 VIEW ad Visit Website


Sandy By the Bay

Function Centre

---

Country:

AUSTRALIA




City:

Sandringham




Contact:

Anita Giuliano
📝 VIEW ad Visit Website


UVC Germicidal

Germicidal UVC equipment Wholesale + retail

---

Country:

AUSTRALIA




City:

Melbourne




Contact:

Garry Britavsky
📝 VIEW ad Visit Website


Barak Guitar Lessons

Guitar tuition, Music Education

---

Country:

AUSTRALIA




City:

Sydney




Contact:

Barak Darel
📝 VIEW ad Visit Website


Madame Sustainable

Hand sanitisers + sprays

---

Country:

AUSTRALIA




City:

Melbourne




Contact:

Jamie Suttner
📝 VIEW ad Visit Website


Kosher Healing

Healing Distance Energy

---

Country:

ISRAEL




City:

Countrywide




Contact:

Daniel + Debora Wiseman
📝 VIEW ad Visit Website


Hebrew Language Society

Hebrew Culture nonprofit

---

Country:

USA




City:

Highland Park, Illinois




Contact:

Tamar Berman
📝 VIEW ad Visit Website


Zoe's Kitchen Watergardens

Home & Kitchenwares, Gifts

---

Country:

AUSTRALIA




City:

Taylors Lakes, Victoria




Contact:

Eric Nathan
📝 VIEW ad Visit Website


Ben & Jerry's

Ice Cream, Ice Cream Cakes, Catering

---

Country:

AUSTRALIA




City:

Melbourne




Contact:

Nicholas Joeng
📝 VIEW ad Visit Website


Hybrid Publishers

Independent publishers

---

Country:

AUSTRALIA




City:

Melbourne




Contact:

Anna Blay
📝 VIEW ad Visit Website


Dunwoody Insurance Group

Insurance Agency

---

Country:

USA




City:

Atlanta, Georgia




Contact:

Victoria Barayev


VIEW Ad

Visit Website


Amazing Jerusalem Boutique & Online Tours

Israel Tourism

---

Country:

ISRAEL




City:

Jerusalem




Contact:

Menno de Vries


VIEW Ad

Visit Website


The Left-Handed Chef

Israeli restaurant (Hummusiyah)

---

Country:

AUSTRALIA




City:

Melbourne




Contact:

Ehud Malka
📝 VIEW ad Visit Website


Fast Track Computer Solutions

IT Software Support & MS 365 Trainers

---

Country:

AUSTRALIA




City:

Perth




Contact:

Ivor Kosowitz
📝 VIEW ad Visit Website


Eema's Beads

Jewelery Handmade

---

Country:

USA




City:

New York




Contact:

Sharona Wachs
📝 VIEW ad Visit Website


The Ketubah Lady

Jewish Calligraphy & Ketubbot

---

Country:

USA




City:

St. Louis, Missouri




Contact:

Tsila Schwartz
📝 VIEW ad Visit Website


Rhythm 'n' Ruach

Jewish Music and Movement Program

---

Country:

USA




City:

St. Louis, Missouri (Nationwide)




Contact:

Shelley Dean
📝 VIEW ad Visit Website


Challah Boards - Personalised

Judaica: Handmade Boards

---

Country:

AUSTRALIA




City:

Sydney




Contact:

Gabi Jodi
📝 VIEW ad Visit Website


SheviB Glass Creations

Judaica: Handmade glass

---

Country:

ISRAEL




City:

Ra'anana




Contact:

Shevi Berman
📝 VIEW ad Visit Website


Shalom Chaverim classes

Kids Online Worldwide fun

---

Country:

CANADA




City:

North York, Ontario




Contact:

Morah Cheryl
📝 VIEW ad Visit Website


The Jewish Center Jaco

Kosher Food + Tours

---

Country:

COSTA RICA




City:

Playa Jaco




Contact:

Toni Eskenazi
📝 VIEW ad Visit Website


Matana Gifts

Kosher Gifts and Hampers

---

Country:

AUSTRALIA




City:

Melbourne based deliver Australia wide




Contact:

Gal & Frumet


VIEW Ad

Visit Website


Kosher Bite Houston

Kosher Restaurant

---

Country:

USA




City:

Houston, Texas




Contact:

Gabriel Algrably
📝 VIEW ad Visit Website


Ryno's Mowing

Lawn mowing + Garden maintenance

---

Country:

AUSTRALIA




City:

Melbourne




Contact:

Ryan Lockstone
📝 VIEW ad Visit Website


Mike the Locksmith

Locksmith services

---

Country:

USA




City:

Atlanta, Georgia




Contact:

Mike or Miriam


VIEW Ad

Visit Website


SaneBox

Manage your emails

---

Country:

USA




City:

Global




Contact:

Support
📝 VIEW ad Visit Website


Solah Skin & Spirit Care

Massage & Healing

---

Country:

AUSTRALIA




City:

Melbourne




Contact:

Stacey Solah
📝 VIEW ad Visit Website


Inscribe Life

Memoir Writing

---

Country:

AUSTRALIA




City:

Melbourne




Contact:

Karen Klein
📝 VIEW ad Visit Website


Chef Bergis

Middle eastern / Mediterranean foods

---

Country:

SOUTH AFRICA




City:

Cape Town




Contact:

Reuven Bergman
📝 VIEW ad Visit Website


Bogdany Business Consulting

Online Organiser

---

Country:

USA




City:

Los Angeles, California




Contact:

Eszter Bogdany
📝 VIEW ad Visit Website


Sort It Now

Organiser

---

Country:

AUSTRALIA




City:

Melbourne




Contact:

Nicola Evans
📝 VIEW ad Visit Website


Dance with Dalya DJ

Party DJ & Dance leader

---

Country:

USA




City:

San Diego, California




Contact:

Dalya Dallal
📝 VIEW ad Visit Website


Aussie Pies and Sausages

Perfect pies Aussie style

---

Country:

USA




City:

Los Angeles, California




Contact:

Jay Jay Wolfpie
📝 VIEW ad Visit Website


Darren Rockawin PT

Personal Fitness Training + Consultancy

---

Country:

AUSTRALIA




City:

Melbourne




Contact:

Darren Rockawin
📝 VIEW ad Visit Website


Israel Photo Art

Photography

---

Country:

ISRAEL




City:

Tzfat




Contact:

Jodi Sugar
📝 VIEW ad Visit Website


Zissimage Photography

Photography

---

Country:

AUSTRALIA




City:

Melbourne




Contact:

Zina Sofer
📝 VIEW ad Visit Website


IRAT Boutique

Plus Size modest fashion

---

Country:

ISRAEL




City:

Bnei Brak




Contact:

Liat Siman Tov


VIEW Ad

Visit Website


Jewish & Secular Pottery

Pottery handmade

---

Country:

USA




City:

Texas




Contact:

April Grunspan
📝 VIEW ad Visit Website


MBE Malvern

Printing services

---

Country:

AUSTRALIA




City:

Melbourne




Contact:

Ron Polak
📝 VIEW ad Visit Website


Sirmai Arts Marketing

Publicity services

---

Country:

AUSTRALIA




City:

Sydney




Contact:

Geoff Sirmai
📝 VIEW ad Visit Website


Solazone

Renewable Solar energy

---

Country:

AUSTRALIA




City:

Philippines, Vietnam




Contact:

Ernest Gavey
📝 VIEW ad Visit Website


ADM Motors

Repairs: Car Mechanics

---

Country:

AUSTRALIA




City:

Caulfield, Melbourne




Contact:

Adam Adler
📝 VIEW ad Visit Website


AMS Air Conditioning

Repairs: Heating & Air Con

---

Country:

USA




City:

Maryland




Contact:

Moshe Shem-Tov
📝 VIEW ad Visit Website


Florida Dwelling Real Estate

Selling, Renting & Investing

---

Country:

USA




City:

South Florida




Contact:

Henry Lederfeind
📝 VIEW ad Visit Website


Morena Dancewear

Shoes & dance clothing

---

Country:

AUSTRALIA




City:

Sydney




Contact:

Andrea
📝 VIEW ad Visit Website


Comic Roasts

Simcha Specialists

---

Country:

AUSTRALIA




City:

Sydney




Contact:

Geoff Sirmai
📝 VIEW ad Visit Website


Sleep Better Again

Sleep Apnoea

---

Country:

AUSTRALIA




City:

Melbourne




Contact:

Sheryl-lee Braver
📝 VIEW ad Visit Website


Pamelita Spanish Tutoring

Spanish lessons

---

Country:

AUSTRALIA




City:

Melbourne Victoria




Contact:

Pamela Goldring
📝 VIEW ad Visit Website


JM Designs

Tablecloths water resistant

---

Country:

SOUTH AFRICA




City:

Johannesburg




Contact:

Jacqui
📝 VIEW ad Visit Website


Israel with Rotem

Tour Guide virtually & in person

---

Country:

ISRAEL




City:

Country wide




Contact:

Rotem Hemed Shahar
📝 VIEW ad Visit Website


Flex Training

Training & Gym

---

Country:

AUSTRALIA




City:

Caulfield




Contact:

Sam Gross
📝 VIEW ad Visit Website


The D*E*B* Method

Training: Goal Coaching

---

Country:

USA




City:

Los Angeles, California




Contact:

Deb Eckerling
📝 VIEW ad Visit Website


Israel Travel Company

Travel: Israel

---

Country:

ISRAEL




City:

Jerusalem




Contact:

Zel Lederman
📝 VIEW ad Visit Website


Uke For Kids

Ukelele Teaching & Fun

---

Country:

AUSTRALIA




City:

Melbourne


📝 VIEW ad Visit Website


High Key Productions

Video & Film production

---

Country:

AUSTRALIA




City:

Melbourne




Contact:

Chaim Mehlman
📝 VIEW ad Visit Website


VA Directory

Virtual Assistants

---

Country:

AUSTRALIA




City:

Melbourne




Contact:

Kathie Thomas
📝 VIEW ad Visit Website


Siba Academy

Workshops: Ballet

---

Country:

AUSTRIA




City:

Salzburg




Contact:

Nili Glazer, SIBA Director
📝 VIEW ad Visit Website


Writer - Paula Towers

Writing & editing

---

Country:

AUSTRALIA




City:

Sydney




Contact:

Paula Towers
📝 VIEW ad Visit Website


Yoga - Karina Lambert

Yoga training

---

Country:

USA




City:

Willow Glen, California




Contact:

Karina Lambert
📝 VIEW ad Visit Website


Generation Videos

Your family history is the link to your heritage.

---

Country:

AUSTRALIA




City:

Melbourne




Contact:

Sean Meltzer
📝 VIEW ad Visit Website