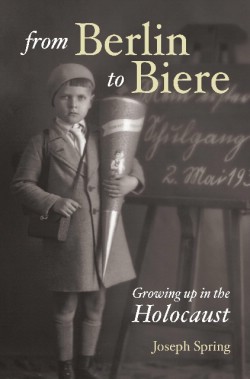 by Joseph Spring
Hybrid Publishers
Memoir
176 pages

In his moving account of how a young boy managed to survive the horrors of the Holocaust, Joseph Spring takes us through the deterioration of conditions under which Jews lived in Germany, his turbulent life as he fled to Belgium, hid in France on false papers, tried to cross the border into Spain and was then betrayed crossing the Swiss border and handed over to the Germans.

He describes life in Buna, a side camp of Auschwitz which supplied slave labour for the chemical combine IG Farben. With his life constantly threatened by hunger, disease or a bullet in Auschwitz, Joseph trained to be a welder and lived from one day to the next until on his eighteenth birthday he was forced to go on a death march.

The book also gives an account of the only court case to have taken place in the Swiss Bundes Gericht in Lausanne (High Court) re Swiss Government's attitude to Jewish refugees, where Joseph accused the Swiss government of participation in genocide.

Using precise details and a clear direct voice, Joseph conveys his experiences vividly and records for posterity the clear facts of this shameful time in Europe's history.


$25.00 AUD
Price Includes Australian GST
[Currency Converter]