Personal Training - Darren Rockawin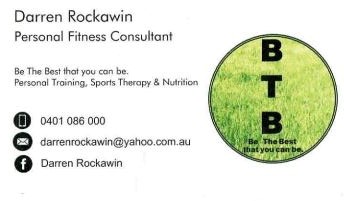 Personal Training + Consultancy
Darren Rockawin is a Personal Trainer with over 30 years experience in the Health, Fitness and Well-being space.
Coupled with this are his ongoing studies with Victoria University, where he is an academic in the Sports Science, Football and High Performance arenas too.
His specialties or areas of interest are AFL football and running - though his client base is and has always been varied and differently goal based.

He is based in Caulfield, but travels far and wide to cater to the demands of his regular PT people.
In addition to this he has a newly fitted out gym at home where I constantly train clients at.
Should you wish any further information please do not hesitate to contact Darren at anytime that you need to.
Contact
Darren Rockawin
0401 086 000