Australia Day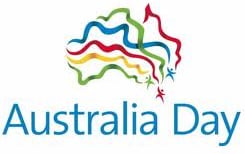 The First Fleet
The First Fleet brought hundreds of convicts to the new penal settlement, many convicted of petty crimes, and included at least 8, and possibly 14 Jews.
See also Rabbi John Levi's book "Australian Genesis" which details the first few years of Jewish settlement in Australia.
Information websites
Kids
Australia Day Activities Websites
Australia Day activities around Australia:
Australia Day marks the anniversary of the continent's first European settlement.

On January 26, 1788, Captain Philip, the commander of the British naval expedition to be known as the First Fleet, claimed Port Jackson, the site of modern day Sydney, on behalf of the British Crown.