Cauliflower Pancakes
A wonderful old family recipe!
Preparation method:
1. Preheat oven to 200 degrees F. Line a baking sheet with parchment paper.
2. In a medium bowl, mix the riced cauliflower, eggs, mozzarella, Parmesan, garlic powder, salt and pepper.
4. Spray pan with olive oil spray.
Measure ¼ measuring cup per pancake, flattening them thin with the back of a spoon after placing in the skillet.
Fry the pancakes over medium heat (not higher) about 5 minutes, until the underside has formed a sturdy, golden-brown crust. Be patient – if you flip them too soon, they will fall apart.
5. Carefully flip to the other side, and fry 5 more minutes, or until golden-brown on both sides and sturdy enough to lift off the skillet.
6. Repeat two more times, adding sprays of olive oil before each batch.
Keep the cooked cauliflower pancakes in the warm oven while you make more batches.
Recipe from Rochelle Morais, Farmington Hills, Michigan, USA
Type: Side dish
Kosher choice: Pareve

Ingredients:
HEALTHY Hanukkah Latke alternative...

1 serving
1 lean protein, 3 greens, 3 condiments
Ingredients
· 1 1/2 c. riced cauliflower
· 2 large eggs, lightly beaten
· ½ cup shredded part-skim mozzarella (2oz)
· 1 tablespoons grated Parmesan
· 1/4 teaspoon garlic powder
· 1/8 teaspoon kosher salt
· 1/8 teaspoon black pepper
· 10 sprays of olive oil spray
Would you like to add

YOUR

recipe to our site?
Click here!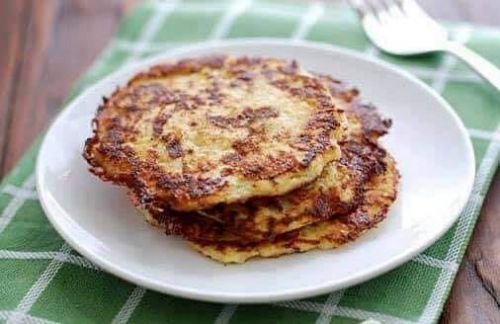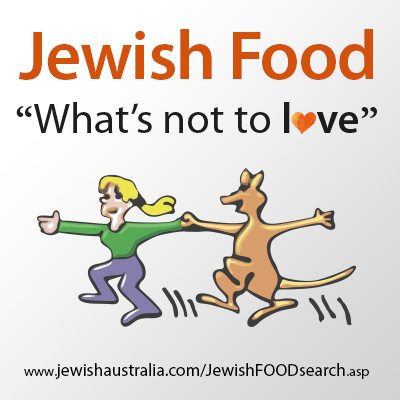 We'd love to hear from you
What are your favourite types of Cauliflower Pancakes?
Do you have a special recipe you'd like to share?

We're interested in your family, ethnic, vegetarian, vegan or any comments that makes Cauliflower Pancakes a special food for you!
Email Us Your favorites
Visit all of our Jewish food pages:
BACK TO THE JEWISH FOOD INDEX PAGE